Canon PowerShot SX10 IS macro and telephoto versus G series.
Question: "My wife purchased a Canon PowerShot SX10 IS on line for me as a Christmas present. Do you have any experience or information which describes its ability in macro situations? I assume the 20x zoom is great (and look forward to using it for birds), but have they shortchanged us on the other end, or does the lens do it all? I take a lot of wildflower pictures and want to make sure that it will produce good results for the closeups I like to take. My eyes are aging, so I want to make sure the camera will auto focus when I need it to. Sorry my questions are so general…"     (from A. B. in Paradise, CA, December 2008)
Tom responds in December 2008: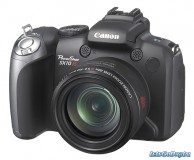 Check owner opinions for Canon SX10IS at:
www.dpreview.com/reviews/read_opinion_text.asp?prodkey=canon_sx10is&opinion=41875
Canon compact digital cameras are among the best available. The Canon Powershot SX10IS is a good choice for price value, with amazing abilities compared to earlier cameras. Canon's official site www.usa.canon.com/consumer/controller?act=ModelInfoAct&tabact=ModelTechSpecsTabAct&fcategoryid=144&modelid=17630
claims excellent macro performance, which I trust will be quite good, based upon earlier Powershot cameras:
Focusing Range
Normal: 1.6 ft./50cm-infinity (W), 3.3 ft./1m-infinity (T)
Macro: 0.39 in.-1.6 ft./1-50cm (W)
Super macro: 0-3.9 in./0-10cm (W)
Super Macro mode can shoot objects that are zero distance from the lens! You cannot get any closer than that!
SX10IS  sounds like a great macro camera. (Macro close focus with superior depth of field is one of the strengths of compact cameras over DSLR style cameras.)
Macro is this camera's strength. Its weakness is most likely at the telephoto end, such as difficulty focusing on and shooting at moving birds (a problem any compact camera will have). It could still be a good compromise for shooting birds, half the size and weight and much cheaper than a DSLR style camera. A tripod would be helpful for sharper shots at telephoto. At all zoom settings, I recommend setting ISO at 400 or lower to avoid noise (blotchiness at the detail level at ISO 800 or higher), unless you need to hand hold the shot. By default the camera uses Auto ISO, which might do okay in most of your daytime outdoor shots.
The SX10IS is 1.5 pounds (large and bulky compared to the G9 or G10), surprisingly wide 20x zoom range, 28-560mm equivalent lens, probably decent quality, with good Image Stabilization (IS), a must-have in any camera.
Its sensor is unfortunately quite small, 1/2.3 " (6.16 x 4.62 mm), which limits the size of your prints, or low light shooting abilities, compared to cameras which have larger sensors such as the Canon Powershot G9 or G10 (which cost $100 more). If your goal is mainly prints smaller than 10 inches, then the SX10IS should be fine. Larger prints with it are possible if you shoot steadily and carefully, within its limitations.
You might also look at the Fujifilm Finepix S100FS (34 ounces; 28-400mm lens), which will take higher quality images if you shoot RAW mode, but is somewhat larger and heavier than the SX10IS.
Your needs may differ from mine. Personally, I need good enough quality to sell and publish large landscape prints, and I would pick a Canon Powershot G9, G10, G10, G12, or pocket sized S95  for fun, smaller carry-everywhere size, combined with great quality images (better image quality than SX10IS) and good macro. However, the telephoto is nowhere near as long in the G series versus SX10IS, so cropping images could compensate to similar ballpark quality. A birder hobbyist shooting mostly in bright daylight or sunlight may prefer SX10IS for the long telephoto.